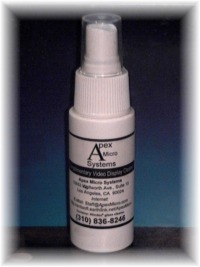 Quick & Easy Cleaning

Display Cleaner


Complimentary.

Apex Micro Systems' exclusive video display cleaner.
Complimentary to business users in our service area.
Removes dust, streaks and residues for a clear & sharp picture.
Quick & Easy to use. Fast drying formula.
Small and tiny footprint; just 1" around and 4.75" high
Sign up to receive your cleaning kit now.